Met wie speel ik?
Met hoeveel zijn we?
Nederlands of Engels?
Uitbreidingen tonen?
Brass: Birmingham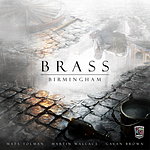 Brass: Birmingham is an economic strategy game sequel to Martin Wallace' 2007 masterpiece, Brass. Birmingham tells the story of competing entrepreneurs in Birmingham during the industrial revolution, between the years of 1770-1870.

As in its predecessor, you must develop, build, and establish your industries and network, in an effort to exploit low or high market demands.

Brewing has become a fundamental part of the culture in Birmingham. You must now sell your product through traders located around the edges of the board. Each of these traders is looking for a specific type of good each game. To sell cotton, pottery, or manufactured goods to these traders, you must also "grease the wheels of industry" by consuming beer. For example, a level 1 cotton mill requires one beer to flip. As an incentive to sell early, the first player to sell to a trader receives free beer.
| | |
| --- | --- |
| Prijs | 'ā¨ 65 |
| Uitgever | Roxley Games |
| Leeftijd | Vanaf 14 jaar |
| Spelers | 2 tot 4 spelers |
| Tijdsduur | 60-120 min |
| Taal | Engels |
| Taalgebruik | Taalonafhankelijk. |
| Auteur | Gavan Brown, Matt Tolman, Martin Wallace |
| Uitgegeven in | 2018 |
| EAN code | 9781988884042 |