Met wie speel ik?
Met hoeveel zijn we?
Nederlands of Engels?
Uitbreidingen tonen?
Blood Bound 2nd edition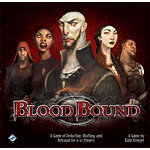 In Blood Bound, a deduction game played in 15-30 minutes, players assume the roles of members of two clans – the brutal, animalistic warriors of the Clan of the Beast and the graceful, deadly members of the Clan of the Rose – and (with an odd number of players) the human inquisition. Disguised by a secret identity, they try to kidnap the Elder of the opposing clan or give their lives for the benefit of their own Elder. Malicious attacks, aimed indiscretions, and assistance from others will slowly uncover the truth: Who fights for whom? And who is the Elder?

At the start of the game, each player knows three things:

Who they are and to which clan they belong
That a few other players are allies, while everyone else is the enemy of both themselves and their clan
The clan to which one of their neighbors belongs – although some characters can lie about their clan identity


Now the players have to figure out who the Elder of the opposing team is (if there is one) and capture him.
| | |
| --- | --- |
| Prijs | € 15 |
| Uitgever | Fantasy Flight Games |
| Leeftijd | Vanaf 14 jaar |
| Spelers | 6 tot 12 spelers |
| Tijdsduur | 30 min |
| Taal | Engels |
| Taalgebruik | Beperkte hoeveelheid tekst. |
| Auteur | Kalle Krenzer |
| Uitgegeven in | 2013 |
| EAN code | 841333100841 |