Met wie speel ik?
Met hoeveel zijn we?
Nederlands of Engels?
Uitbreidingen tonen?
Battle of Britain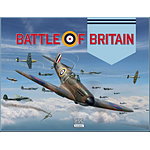 Battle of Britain by Richard Borg, a remastering and upgrading of the classic, much loved old TSR classic. This upgraded version takes all the brilliant mechanics and features of the original game and adds new features to give an even more exciting and satisfying gaming experience, including new streamlined dogfighting and fuel rules, ace fighter squadrons and the ability to play shorter scenarios in 1-2 hours or the full campaign game in 3-4 hours.

Take command of RAF Fighter Command, marshalling your too few fighter squadrons to protect your homeland's cities, industrial resources, airfields and vital radar chain against the waves of Luftwaffe bombers intent on destroying them and the swarms of fighters intent on shooting the RAF out of the sky. Can you thwart the Luftwaffe's bombing missions, tear the heart out of their bomber and fighter squadrons and survive long enough to win the game?
| | |
| --- | --- |
| Prijs | € 65 |
| Uitgever | PSC Games |
| Leeftijd | Vanaf 10 jaar |
| Spelers | 2 tot 4 spelers |
| Tijdsduur | 90-210 min |
| Taal | Engels |
| Auteur | Richard Borg |
| Uitgegeven in | 2017 |
| EAN code | 5060226931958 |