Met wie speel ik?
Met hoeveel zijn we?
Nederlands of Engels?
Uitbreidingen tonen?
Amun-Re: The Card Game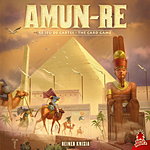 Amun-Re: The Card Game is a card-based version of Amun-Re, and the auction at the heart of that game is still present in this design, with the results of those auctions driving the rest of the action.

In more detail, Amun-Re: The Card Game lasts three rounds, with three auctions in each round, followed by other actions, then a scoring. Each player starts the game with money cards valued 0-8, and at the start of the game, everyone chooses money cards that sum to 14 (with the 0 being included) and lays those cards face up on the table. Province cards equal to the number of players are revealed, and players take turns bidding on provinces by placing exactly one money card next to one province, outbidding an opponent if someone else has already bid there; if you're outbid, you take back your money card, then bid again on your next turn. Eventually everyone will have bid on separate provinces, after which you discard the non-0 bids, then lay out new province cards and run through two more rounds of bidding.
| | |
| --- | --- |
| Prijs | 'ā¨ 12 |
| Uitgever | Super Meeple |
| Leeftijd | Vanaf 14 jaar |
| Spelers | 2 tot 5 spelers |
| Tijdsduur | 45 min |
| Taal | Frans Engels |
| Taalgebruik | Taalonafhankelijk. |
| Auteur | Reiner Knizia |
| Uitgegeven in | 2017 |
| EAN code | 3760035320050 |