Met wie speel ik?
Met hoeveel zijn we?
Nederlands of Engels?
Uitbreidingen tonen?
878: Vikings – Invasions of England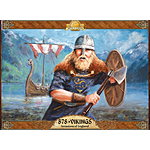 The year is 878. For the past 75 years, Viking raiding parties from Norway and Denmark have been terrorizing the coasts of England with 'hit and run' attacks. The treasures and stories gained from these attacks have allowed the Norsemen to raise huge hosts of eager men seeking glory and riches. These armies now stand poised to thunder across England where they will settle and farm the fertile land they conquer. The divided English kingdoms are unprepared for this impending onslaught. The Vikings are coming!

In 878: Vikings – Invasions of England, players control the invading Vikings or the English nobles who are trying to withstand the invasion. Viking players either play as Norsemen Viking freeman or as the fearless Viking shock troops known as Berserkers. The English play as the Housecarl, the Kings' household troops, or as the Thegns who were regional noble Leaders. The English players will also be able to call up the peasant levies, called the Fyrd, to defend their cities.
| | |
| --- | --- |
| Prijs | € 76 |
| Uitgever | Academy Games |
| Leeftijd | Vanaf 12 jaar |
| Spelers | 2 tot 4 spelers |
| Tijdsduur | 60-120 min |
| Taal | Engels |
| Taalgebruik | Beperkte hoeveelheid tekst. |
| Auteur | Beau Beckett, Dave Kimmel, Jeph Stahl |
| Uitgegeven in | 2017 |
| EAN code | 736211996480 |